Save the Earth in Max Damage and the Alien Attack
It seems Microgaming just can't get enough of aliens at the moment. Having recently treated us to the titillating charms of strip-tease slot Sneak-a-Peek: Planet Exotica, its latest title, Max Damage and the Alien Attack, sees you having to defend Earth from an alien invasion.
Maximum Attack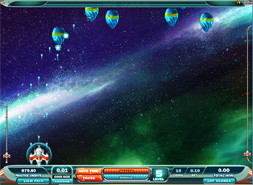 There's no doubt that Max Damage marks is something of a departure from Microgaming's other games. Billed as the company's first 'arcade slot', Max Damage merges Space Invaders-style videogame gameplay with the coin-based payouts of a traditional slot.
As with the classic arcade videogame of the Seventies, players control a small spaceship that must destroy wave after wave of enemy spaceships that move down from the top of the screen.
During the course of the nine levels, you'll encounter various forms of enemy, each unique in terms of its speed, movement patterns and defensive and offensive armament. Additionally, at the end of the third, sixth and ninth levels, you'll have to square off against an enemy boss.
But although the game is tough, you are given six lives and can collect power-ups throughout – giving you a fighting chance of making it through.
Win up to 110,000 coins
Unlike Space Invaders and its many videogame clones, in Max Damage and the Alien Attack, you're financially rewarded for your alien-busting antics. Dispatch an alien spaceship or blast a section off a boss, and you'll net yourself some coins.
Indeed, some of these amounts can be pretty big. Taking down the three boss ships can net you up to 110,000 coins. While even destroying regular ships can be worth up to 10,000 coins.
It's a slot, Jim, but not as we know it
Microgaming is no stranger to pushing the boundaries with its online
slots
games. But nevertheless, Max Damage is likely to prove controversial with slots fans.
Despite its billing as an arcade slot, there's very little to connect Max Damage with the likes of Immortal Romance, Leagues of Fortune or any of its more traditional slot games beyond its payout systems. Indeed, for many serious slots fans, the lack of paylines, reels, symbols and bonuses is likely to prove a big stumbling block.
But while the concept is unquestionably new, we can't deny that Max Damage does work pretty well. So if you fancy trying something different, it's well worth checking out.
Play Max Damage at All Slots online casino today