Royal Panda review
There are three things that all online casino lovers instinctively look for in an online casino: great games, amazing promotions and bonuses, and that feeling of being appreciated as a customer. But while many online casinos can deliver on one or two of these, few manage to do all of them – but Royal Panda is one of the rare ones that manages all three.
At Royal Panda, you'll find it all. From its broad selection of video and classic slots, to its live casino, table games, scratchcards and softgames, its game lineup is truly second-to-none. And whether you're looking for a $100 welcome bonus or the chance to win a genuine space trip, its array of bonuses and promotions is always eye-catching. And then there's its Loyal Panda points-based loyalty program, which is designed to ensure you know your business is always valued. In short then, Royal Panda is an online casino fan's dream come true.
Join Royal Panda now to receive your $100 bonus
A world-beating selection of slots
If slots are your thing, then Royal Panda is the online casino for you. Under the terms of its licenses, Royal Panda is authorized to offer slots from industry leaders Microgaming and Net Entertainment, and duly obliges by offering a great selection of slots from both.
Rather than simply cramming all the slots it can into its online casino, Royal Panda has instead carefully selected a spread of the very best slots around, ensuring you receive a wide selection of great slots, without any fear of you ending up wasting precious play time and money on a sub-par slot.
The full lineup includes:
Over 150 video slots, including smash hits South Park, Starburst and the Untamed series
More than 30 classic slots, such as Super Nudge, Joker 8000 and Retro Reels – Extreme Heat
Progressive jackpot slots worth millions, such as Mega Moolah, the Wonders series and the Dark Knight.

But it's not only the game selection that catches the eye, as Royal Panda offers a highly innovative navigation system as well.
Hot and cold slots
Hot and cold slots is an innovative new feature designed to help you sniff out a win. Do you ever get the feeling that no matter which slot you decide to play, it's always a different one that seems to be pumping out money? Are you tired of ignoring a slot that don't seem to be paying out, only to find out a day or two later that someone racked up a huge win on that same game while you were paying something else?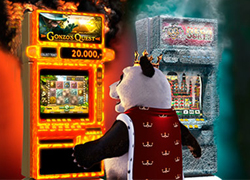 This is where the hot and cold slots system comes in. Hot slots are those slots that are currently spilling cash, whereas cold slots are those that are overdue a big payout. The system allows you to filter slots on that basis. Here's how it works:
Select whether you want to search for hot or cold slots
Select the payout amount
Select the timeframe in which that amount has (not) been paid out in
View your results

Give it a go and find out why it's the closest thing you'll get to a guaranteed slots win.
Out-of-this-world promotions
Another impressive aspect of Royal Panda's refreshing approach to online casino are its promotions, which range from the familiar to the truly extraordinary, such as its space trip promotion which it's currently running for video slot, Starburst.
The first player to achieve the maximum possible combination on this popular slot while playing for real money will win an all-expenses-paid trip into space, worth over $100,000. This should set the tone for similar promotions moving forward, and we expect to see much more in this regard from Royal Panda in the year ahead.
But these attention-grabbing promotions don't come at the expense of the traditional bonuses you'd expect from an online casino. In fact, if you take advantage of Royal Panda's 100% first-deposit bonus now, you'll receive up to $100 extra to put towards helping you win the space trip.
Where loyalty is rewarded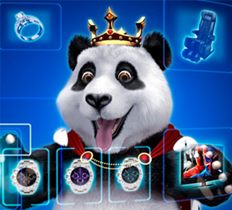 But Royal Panda is about much more than extravagant promotions and one-off bonuses. And with Loyal Panda, its points-based loyalty program, it gives players every reason to stick around after they've spun away the final pennies of their deposit bonus.
The idea is simple: whenever you place real money bets, you earn points. These points can then be redeemed against a host of great gifts, including:
Smartphones and tablets
Designer watches
Royal Panda merchandise
Reload bonuses and free spins for your favorite slots.

So regardless of whether you're a VIP receiving a fancy new gadget, or a regular player receiving a reload bonus to extend your play time, there's good reason to stick around at Royal Panda.
Other great reasons to play
Royal Panda offers far more than great slots and promotions. Tucked away within its logically designed and pleasingly styled website, you'll find a whole host of other games, including:
A wide selection of table games, including blackjack, baccarat, craps and roulette
A live casino offering blackjack and roulette
A host of video pokers
Scratchcards and softgames

And should you find yourself in need of assistance, Royal Panda is only too happy to help. Alongside its helpful and clear FAQs, its friendly, professional customer service team is available every business day between 1300 and 2200 (GMT+1) via is hotline and chat, while emails are always answered within one business day.
So what are you waiting for? Sign up today and set those slots reels spinning!
Join Royal Panda now to receive your $100 welcome bonus