Sexy space adventures await in Sneak-a-Peek: Planet Exotica
With great jackpots and sexy bonuses, Sneak-a-Peek: Planet Exotica offers a slots experience that really is out of this world! Promising risqué charm and amazing prizes, Microgaming's latest is one space adventure no slots fan will want to miss out on.
An intergalactic gambling dream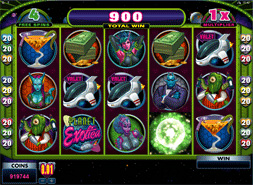 Sneak-a-Peek: Planet Exotica offers the same combination of style, innovation and quality as found in such other Microgaming hits as
Immortal Romance
and
The Grand Journey
.
Sneak-a-Peek: Planet Exotica is a five-wheel, 15 win-line slots game with some novel twists. The action takes place in an intergalactic strip club, featuring five sexy alien performers, bar tenders and a bouncer. And with 12,000 coins up for grabs in the Sneak-a-Peek bonus mode alone, a lucky spin of the wheel could well see you walk away a big winner.
Close encounters of the sexy kind
It's this Sneak-a-Peek bonus mode that sets Planet Exotica aside from its competitors. This bonus – suitably depicted using a zipper icon – appears exclusively on the first wheel. Should the icon display when the wheel stops, a bonus field appears on the last wheel. Should one of Planet Exotica's intergalactic beauties appear in this field when the wheel stops, you enter the Sneak-a-Peek bonus mode.
This gives you a picture of the cosmic beauty in question, surrounded by 15 tiles. Behind these tiles lurk icons depicting the alien's clothing. Players then have 12 goes to reveal these items. Should you match three of them, the alien will remove that garment, and give you a 10x multiplier on your wager as well!
Kiss and tell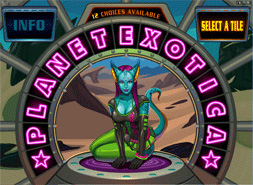 Alongside this, you also have the traditional scatter bonuses in the form of seductive-looking lips. Should two come up in a given spin, you'll win 600 coins; should three, four or five appear, you'll enter the free-spin bonus mode.
Before you do this, you'll be required to select one of the pairs of lips, which determines how many free spins you get, and how big the multiplier is. If neither is especially big though, don't worry. In free-spin mode, lipstick icons are added which give you bonus spins and increase the multiplier. You can even enter the Sneak-a-Peek mode as well!
Sexy fun and stunning rewards!
With big prizes and a suitably unique theme, Sneak-a-Peek: Planet Exotica offers a novel experience. For those worried about it's erotic content, don't be too concerned – there's no nudity involved.
Check out this amazing game at All-Slots Casino today!