Batman hits the jackpot with the Dark Knight Slot
Microgaming and DC Comics have joined forces to bring slots fans The Dark Knight, one of the most epic slots experiences ever to grace an online casino. Based on the 2008 cinema blockbuster of the same name, Batman fans and slots players alike will marvel at the way The Dark Knight blends the film with top-rate slots gameplay to create one amazing package.
A very special game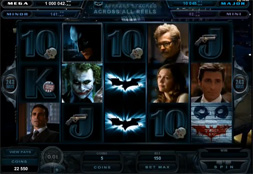 Given the popularity of the film – the eleventh highest-grossing film of all time – it was clear that something special was going to be needed for the slot game. And even by its own high standards, Microgaming has surpassed itself, delivering a game more sophisticated than even the likes of Untamed Giant Panda, Immortal Romance or Gold Factory.
Even before players have so much as spun a single reel, they're treated to a breathtaking montage of sound and video samples from the film. Such is its quality that you'd be forgiven for thinking you were watching a professionally produced Hollywood trailer.
This lavish display of visual sophistication doesn't let up when you start playing the game, either. Spin the reels, and you'll see the animated background depicts scenes from the film. The tiles are also exquisitely animated: land a winning combination, and you'll be treated to animations ranging from the Joker or Batman appearing to blow up tiles or perform other activities, to memorable sequences from the film being played out on your screen.
Gambling in Gotham
Backing this up is some rock-solid gameplay. At its heart, the Dark Knight is a 5-reel, 243-way slots game. And naturally, wilds, multipliers and bonus modes figure as well.
But the richness of its experience isn't the only reward on offer. The game is linked to no less than four progressive jackpots, offering the chance to win potentially hundreds, thousands or even millions of coins with a lucky spin. Random rewards are also doled out throughout the game.
And while this means there's no free play mode available, slots fans shouldn't have a hard time falling for the charms of the Dark Knight. Check out the Dark Knight at All-Slots Casino!