Las Vegas casino chips and cards track every hand
Chipped casino chips and playing cards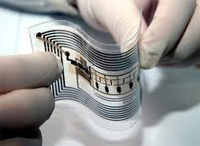 Everything today in the world of
online casino
is about increasing interactivity between the players and the casino. We have already written articles about
RFID casino chips
that enable casinos to track customers' playing habits and also to dissuade casino theft as these new casino chips are difficult to cash out. This is the case of the much publicized casino burglary from a Las Vegas casino in December 2010 who escaped with $1.5 million, some valued at $25,000.
Traceable RFID casino chips
The fact that more and more
casino chips
are now embedded with radio frequency identification tags means that each chip can be identified and traced by the casino including serial number, value and date of manufacture.
Chipped casino cards
New developments in RFID chips now also enable casinos to identify casino cards as well as casino chips. The casino cards incorporate flexible identity chips that are indiscernible to the casino players. However, these are tagged only for entertainment reasons and not for security.
Intelligent poker tables
Pokertronic is a German company that makes poker tables that are able to read these new RFID playing cards. The reader in the table identifies each individual card placed on the table. Such poker tables are for example used in poker tournaments that are transmitted to audiences around the world by television. The cards placed on the table are read and transmitted to the television screen.