Run with the Wolf Pack in Microgaming's latest Untamed slot
All-Slots Casino and Microgaming invite you to take a walk on the wild side with North America's most-feared pack predator in Untamed: Wolf Pack. And with a host of novel modes and bonuses, not to mention a maximum jackpot of 90,000 coins, it's a risk worth taking.
Pack-ing in the features
As with Untamed: Giant Panda and the other games in the series, Untamed: Wolf Pack take the standard 243-way video slot format and jazzes it up with a smattering of unique twists, innovative gameplay modes and strong styling.
The collect-a-wild feature returns, rewarding players who persist with the game. Each of the game's five reels has four slots, one of which fills up whenever a wild symbol lands on that reel at the end of a spin. Once all four have been filled up, the whole reel becomes a single wild symbol, spanning each of that reel's three rows for four whole spins.
Another welcome returnee is the lucky nudge scatter feature. As in other games, three or more scatter bonuses will net you a number of free spins. Thanks to lucky nudge though, should you land two scatter bonuses, but the all-important third one remains just above or below the three visible part of the reels, it'll scroll down to give you your bonus.
Gambles with Wolves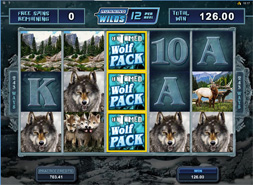 Nor are these the only ways to ensure you can win big sums. Thanks to the optional gamble mode, it's possible to transform even tiny wins into handsome sums by gambling with it.
Once you've enter the gamble mode, you're presented with a spinner whose face is divided up into win and loss areas. These can be increased at will; the larger the loss area, the higher the prize. Once that's set, the mode begins and provided the spinner lands on the winning portion of the face, you win.
Rugged wilderness
As with the other Untamed slots, Wolf Pack is fantastically styled. The images are reminiscent of the Canadian wilderness, while the tiles show everything from infant and adult wolves, to the sorts of animals they prey on. And naturally, they're fully animated.
And with a maximum jackpot of 90,000 coins and a broad range of betting values, this innovative slot is perfect way to inject a bit of wild excitement into your gambling.
Untamed: Wolf Pack is available to play at All Slots Casino now.