Join the spooky fun in the Twisted Circus
Roll up roll up! All Slots is offering slots fans the chance to win big jackpots in the big top of Microgaming's creepy new slots game, Twisted Circus. With freaks, free spins and a jackpot of over 500,000 coins, those who can brave its creepy charms could find themselves richly rewarded.
A creepy time in store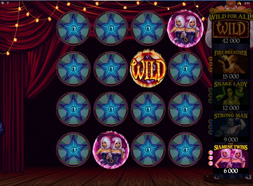 As the name implies, Twisted Circus is unlike any other circus you've ever visited. Rather than jolly ringmasters and magnificent animals, this motley crew of freaks and weirdoes are there to scare rather than entertain.
Snake charmers, Siamese twins, bearded ladies, sinister strong men and vicious monkeys are among the cast of delightfully creepy characters that form the individual tiles that adorn the game's five reels. This is backed up by some impressive animation and an eerily off-key circus-style soundtrack.
Big bonuses await
But while Twisted Circus may catch the eye because of its creepy styling, its gameplay and bonuses will do anything buy scare you off. At its heart, Twisted Circus is your standard five-reel, 243-way slot affair.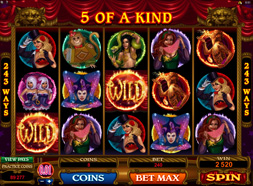 What sets it apart are its generous bonus modes, of which there are two. The first is unlocked via the game's scatter bonuses. In the event of a player receiving three or more of these, they'll enter the free spin mode, which offers not only free spins, but also a generous multiplier.
However, for those who really want to win big, the main bonus mode offers you everything you could want. Should you be fortunate enough to land three bonus tiles on the last three reels, you'll find yourself whisked off to a bonus mode where you're given a field of hidden tiles. Choose three, and if they form a winning combination, you've won! And with a maximum jackpot of 555,000 coins, there's every chance that could be a life-changing prize.
Life under the big top
With Halloween just around the corner and handsome jackpots to be won, Twisted Circus is ideally placed to offer players a double dose of scary charms and the opportunity to win big. Twisted Circus is available to play at All Slots Casino now.