Different types of slot machines
Here we list the main types of slot machines available both in land based casinos and also offered in
online casino
today.
Straight slot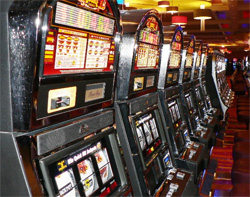 There are four basic types of straight slots.
Multiplier Slots
The payouts offered by multiplier slots are based upon the number of coins bet on a spin. For example, a slot machine might pay 10 coins if you bet 1 coin and 3 cherries appear on a payline.
Bonus Multiplier Slots
These slots work in the same manner as basic multiplier slots. The only difference is a bonus that boosts your payout for a winning combination if you bet the maximum number of coins.
Multi-Payline Slots
When slot machines first became popular, most of them offered only one payline. Today, many straight
slot
games offer multiple paylines. Each coin that you bet activates one payline. If a winning combination appears on an activated payline, you win the payout listed on the pay table.
Buy-a-pay Slots
This type of slot machine is often misunderstood, even by long-time slot enthusiasts. Buy-a-pay slots offer a number of winning combinations, but will only pay out if you have "bought" a combination.
Progressive slot machines
Progressive Slots offer you a chance to win a life changing jackpot while only risking a few dollars (at most). Be sure to play these knowing that the odds of you hitting the big jackpot are about the same as winning the lottery. Always play the max coins so you have a chance to win the jackpot with every spin you take.
3 reel and 5 reel slots machine
The two most common video slots come in either 3 reels or more commonly 5 reels. Just like their mechanical wheel predecessors video slot machines regardless of whether they are 3 reel of 5 reel slots use Random Number Generators to that determine the outcome of each round of game play at the slot machine. Video slot machines are fun and exciting and come in a variety of different variations both at land based casinos and online casinos
As you can see there are a multitude of slots available today and it is up to you the player to determine which slot games are right for your budget and skill level.