All Slots - the casino in your pocket
Whenever you go out somewhere, there's almost certainly a clutch of items you instinctively reach for before going out the door. The keys to your home and car. Your purse or wallet. And, of course, your mobile telephone.
Pocket power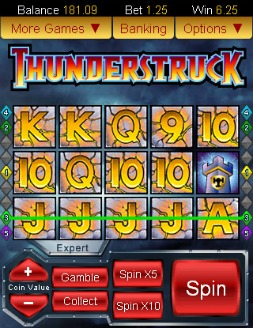 Mobile (or 'cell') telephones are now an indispensible part of modern life for billions of people. And thanks to the rise of the so-called 'smart phones', the practicality and sophistication they offer means we're embracing them like never before.
If you own an iPhone, a Blackberry or an Android device, then there's every chance you use it for much more than making calls or sending the odd text message. From surfing the web to playing music, videos and games, there's not much that the modern mobile can't do. But did you know you can use it to enjoy incredible slots gaming as well?
A market on the rise
Mobile casino gambling may still be in its infancy, but operators have been quick to embrace it. As a result, the rate of development in this emerging sector has been rapid.
Approaches by the different operators have varied. Some have gone down the 'app' route, creating custom programs distributed as downloads. But while this has delivered some reasonably impressive visuals, it does mean the apps are subject to the regional restrictions of the mobile platform holders.
One operator who's gone down a different route is All Slots Casino. All Slots has opted for a browser-based mobile casino instead. But don't think this in anyway detracts from the overall experience.
All Slots – the casino in your pocket
Accessing the mobile casino is simple. Simply visit the All Slots website, click the mobile link and enter your country, mobile telephone number and preferred game and click the download button.
Within a few minutes, you'll receive an SMS text message containing a link. And so long as your mobile is connected to the internet, you'll see a list of games in your phone's browser. Select the game you wish to play, log in with your account details (or create a new account), and you'll be able to dive straight into the action!
Although games can vary from handset to handset, each offers a strong line up, including such popular slots as Tomb Raider and Thunderstruck, along with such favorite table games as roulette and blackjack.
The mobile casino also supports all the usual payment methods (such as credit cards and e-wallets), so making deposits and withdrawals is easy. And you can also keep abreast of the latest promotions as well!
Mobile gambling may be in its infancy still, but there can be no doubt that in the continually evolving slots market, this is an important step forwards. But don't just take our word for it – download the All Slots mobile casino and find out for yourself!