Prince William and Kate Middleton set to break records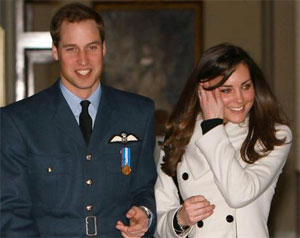 Prince William and Kate Middleton will get married on April 29th 2011 and the Guinness Book of Records is already getting ready to record a few more records for this most historical of events that is about to take place.
A global audience
There are many records up for grabs with the latest royal wedding such as that of the largest global audience to follow the event live. This record is still held by Prince William's parents, Prince Charles and Lady Diana Spencer in 1981 which was followed by a record 750 million people in 74 countries.
Further records to be broken
•    The most expensive slice of wedding cake was that of the Duke and Duchess of Windsor when they married in 1937 which was sold at Sotheby's in New York on February 27th 1998 for a record $29,900
•    The longest wedding veil which measured 11.017 metres in length was worn by Sandra Mechleb when she married Chady Abi Younès in the Lebanon on October 18th 2009.
•    The wedding dress with the most precious stones counted at 43.008 was designed by Cosmina Englizian and presented during an event organized by E-Mariage in Romania on March 24th 2010.
•    The heaviest wedding cake which weighed in at 15.032 pounds was made by the Chefs of the Hotel Mohegan Sun
Casino
in Connecticut for a wedding on February 8th 2004.
Good luck to the newlyweds on breaking as many Guinness World records as possible and especially on having a long and happy marriage.