A history of the World Series of Poker
Here is a summary of how the competition started out, highlighting the most memorable moments in the history of the
World Series of Poker.
The birth of the World Series of Poker competition
The World Series of Poker first started out in 1970. In its first year it was not even a poker tournament. Leading poker players from Las Vegas clashed over the course of a few days playing high limits before finally voting Johnny Moss as the winner. Moss was again elected champion in the summer of 1971 by winning a 7 player Sit and Go poker game. The tradition of determining the winner by a tournament was first introduced.
50 tournaments per year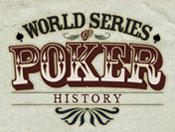 In recent years the World Series proposed over 50 tournaments each year. Thousands of poker players went to Las Vegas every summer to take part. The WSOP Main Event in 2006 experienced record attendance with a total of 8 773 players registered.
The memorable moments of the WSOP
In 1972, "Amarillo Slim" Preston won the
WSOP Championship
and decided to make a big publicity stunt of his success in the United States. Because of the national enthusiasm that was developing for the game of poker, CBS Sports broadcast the World Series for the first time in 1973.
Stu Ungar
In 1980 Stu Ungar came from New York to participate in the WSOP and beat all his opponents, mainly older players from Texas and Nevada. Most notably he beat Doyle Brunson in the final who had won the competition in 1976 and 1977. The interest in Ungar prompted NBC to rebroadcast the event on a larger scale in 1981 when it was again won by Ungar.
Double champion Johnny Chan
Johnny Chan became the best tournament player in the world at the end of the 80s and won the Main Event twice in a row in 1987 and 1988. This feat remains one of the most impressive in the history of the WSOP.