Las Vegas casinos offer new bonuses to attract customers
They have become more imaginative in the way to find and attract customers who may be content to sit at home and play
online casino
to instead come to Las Vegas and experience the thrill of what is on offer.
Fantastic new bonuses and offers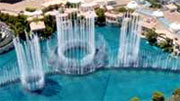 MGM Resorts International found a formula that should attract future clients and more business to their casinos. Depending on the amount of money spent betting, but also shopping in nightclubs, catering and entertainment, customers will get the chance to rub shoulders with famous chefs, world-class boxers and appear in a Cirque du Soleil production.
If you are not scared by the prospect, you can also win the right to swim in a shark-infested aquarium at the Mandalay Bay Casino and dine among the fountains at the Bellagio Casino.
Experience of a lifetime
This loyalty program entitled M Life will be offered in the coming months. Bill Hornbuckle who oversaw the program at MGM Resorts International, said it is intended to appeal to customers and offer them something truly memorable.
Constant bonus innovation
Las Vegas casinos have always been at the forefront of innovative concepts and gifts to all customers to make them feel like they are being treated like VIP's. As a result today, 60% of casino revenues come from products not related to gambling. Therefore it has become important for casinos to keep track of these types of expenditures for each client in order to keep track of trends.